Neotech Soft Harness with Swivel Hook 2501162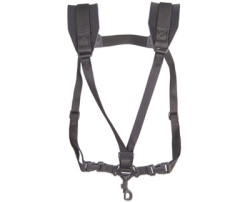 The revolutionary Soft Harness™ from Neotech uses neoprene reinforced with an elastic support system which carries the burden of a heavy instrument while enhancing the musician's freedom of movement. The Soft Harness™ is ideal for musicians in marching bands or individuals with back or neck problems. It relieves a lot of the pressure that baritone sax players of all sizes experience from standard style straps.

Special Features:


Fits most saxophones
Designed for men, women and youths
Easy to attach with a unique swivel hook
Made in the USA

Available Sizes:

Junior Length: 12.5" - 16"
Regular Length: 14.5" - 19"
X-Long Length: 17" - 24"