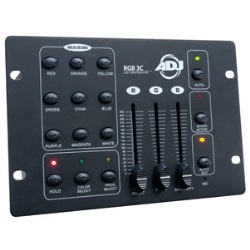 American DJ LED 3 Channel RGB Controller RGB3C
The RGB3C is a basic 3-channel RGB LED controller, designed to control any standard 3 channel RGB fixture set to DMX mode where channel 1 is Red, channel 2 is Green and channel 3 is Blue.

The units control panel includes nine direct access "Static Color" buttons, which contain pre-programmed color presets, 3 manual RGB faders so a desired color could be set on the fly, a Program select button which allows for 7 static colors and 10 chase programs.

This is an ideal control solution for D.J.'s, small night Clubs, and bars that want a simple LED controller to run the show. Includes 9-12V 300mA power supply.

Technical Specifications:

DMX output connector: 3-pin XLR
Power In: 9-12V 300mA
Power consumption: 3.6 Watts
Size: 8.7" x 5.5" x 2.5"
Weight: 1.8lbs.
American DJ LED 3 Channel RGB Controller RGB3C
ae00-4269^RGB3C
3.00
---
Customer Reviews